Every week, I bring you a summary of the need-to-know news in the world of digital marketing. No fluff, just the good stuff.
If you find it helpful, be sure to share it with a friend!
Summary
🔍 Cracking the Code of the Instagram Algorithm
🔮 Embracing AI for Next-Level Advertising: WPP x NVIDIA's Game-Changer!
🚫⚡️ Beware the AI Hallucinations
🎬 Breaking the Mold and Setting Records: Hilton Hotels' 10-Minute TikTok
---
Updates
In a highly anticipated release on the official Instagram blog, Instagram CEO Adam Mosseri took the opportunity to address a topic that has been a source of curiosity and speculation among users for quite some time—the ranking system for content on the platform. In a video he shared on his Instagram account, Mosseri comprehensively explained the workings of the algorithms that dictate the order and visibility of posts across various sections of Instagram.
01 – The Feed Algorithm
Instagram's Feed is where you find a mix of content from accounts you follow, recommended content, and ads. It includes videos, photos, and carousels, and operates through a step-by-step ranking algorithm.
User Activity – Your activity helps Instagram understand what you might be interested in when you like, share, save, or comment on posts.
Information about the post – These signals provide information about the popularity of a post, such as the number of likes it has received and the speed at which people like, comment, share, and save it. They also include details about the content itself, such as the posting time and any attached location.
Information about the person who posted – This helps Instagram gauge their level of interest to you. It includes signals like the frequency of interactions people have had with that person in the past few weeks.
Your interaction history – This gives Instagram an indication of your general interest in seeing posts from that particular person. For example, whether or not you comment on each other's posts.
02 – The Stories Algorithm
Stories let you share moments and connect with what you care about. They include posts from accounts you follow and ads.
Viewing history -This looks at how often you view an account's stories so we can prioritize the stories from accounts we think you don't want to miss.
Engagement history – This looks at how often you engage with that account's stories, such as sending a like or a DM.
Closeness – This looks at your relationship with the author overall and how likely you are to be connected as friends or family.
03 – The Explore Algorithm
Explore is your gateway to discovering exciting new things from accounts you haven't discovered yet.
Information about the post – Post popularity is determined by signals like the number of likes, comments, shares, and saves. These indicators are more significant in Explore than in Feed or Stories.
Your activity in Explore – Your Explore activity, such as liking, saving, sharing, or commenting on posts, influences the content shown to you.
Your history of interacting with the person who posted – Your interaction history with the person who posted the content helps Instagram understand your level of interest in their posts, even if you're unfamiliar with them initially.
Information about the person who posted – Instagram considers signals such as the number of interactions people have had with the person who posted in the past few weeks. This helps Instagram find compelling content from a wider group of creators.
04 – The Reels Algorithm
Reels aim to entertain and introduce you to new content, similar to Explore. The majority of the content you see comes from accounts you don't follow.
Your activity. Your activity on Instagram, including liking, saving, resharing, commenting, and engaging with reels.
Your history of interacting with the person who posted. As with Explore, your interaction history with the person who posted the video to determine your level of interest in their content. Even if you are unfamiliar with the creator.
Information about the reel. These are signals about the content within the video such as the audio track or visuals in the video, as well as popularity.
Information about the person who posted. Instagram considers popularity signals such as number of followers or level of engagement to help find compelling content from a wide array of people. In other words, success drives more success.
Remember to consider all these factors when creating your content and devising your social media engagement strategy. Implementing a diverse range of tactics will not only enhance your audience interaction but also significantly boost your chances of appearing organically in their feed."
---
Instagram Introduces Video Scrubbing on Reels
CEO of Instagram, Adam Mosseri, has confirmed that video scrubbing is now available for all users. This new feature on Reels allows users to rewind or fast-forward videos using a scrubber at the bottom, enhancing the viewing experience by allowing them to catch up on missed moments or fast-forward through content.
Data Confirms: YouTube Takes the Lead as the Most Profitable Channel for Creators.
LinkedIn enhances job-seeker confidence with new verification tools for job postings. It also introduces scam warnings for suspicious messages, addressing fake account concerns. Verified company info, job poster details, and government ID verification offer added transparency. Read More
WhatsApp now rolling out Companion Mode for iPhone users
WhatsApp expands multi-device support with Companion Mode now available for iPhone users, allowing account login across multiple smartphones. Read More
TikTok Tests AI Chatbot 'Tako' for Discovering Content and Short Videos
TikTok is testing an AI chatbot called "Tako" in the Philippines, allowing users to converse about videos and discover content. Tako serves as a navigation assistant, providing answers to queries while recommending relevant TikTok videos. Read more
---
AI
Embracing AI for Next-Level Advertising: WPP x NVIDIA's Game-Changer!
In an intriguing and ambitious collaboration, WPP has partnered with NVIDIA to develop a generative AI-powered content engine to power up digital advertising for their clients.
Using responsibly trained generative AI tools and content from partners like Adobe and Getty Images, WPP's designers can transform text prompts into diverse and high-fidelity images. NVIDIA Picasso, a custom generative AI model, and Adobe Firefly, a family of creative generative AI models, contribute to the creation of captivating visual content.
The new content engine will soon be exclusively available to WPP's clients worldwide, providing them with unparalleled creative possibilities and transformative advertising experiences.
So What?
It's only a matter of time before clients and brands start expecting generative AI to be integrated into their agencies' workflow. The benefits are evident, as it can significantly reduce production times and potentially lower costs. Now is the opportune moment to consider how your company can develop an AI playbook to drive your marketing efforts.
---
AI
Beware the AI Hallucinations
AI hallucinations, a phenomenon in artificial intelligence, occur when models like ChatGPT and Bard fabricate information. They act as if providing factual details, despite being completely false. OpenAI published a research paper outlining preventive measures for these hallucinations.
Recently, a lawyer faced trouble for utilizing ChatGPT in court, as it generated fictitious cases for a federal court filing in New York.
---
Resources
---
Brand Watch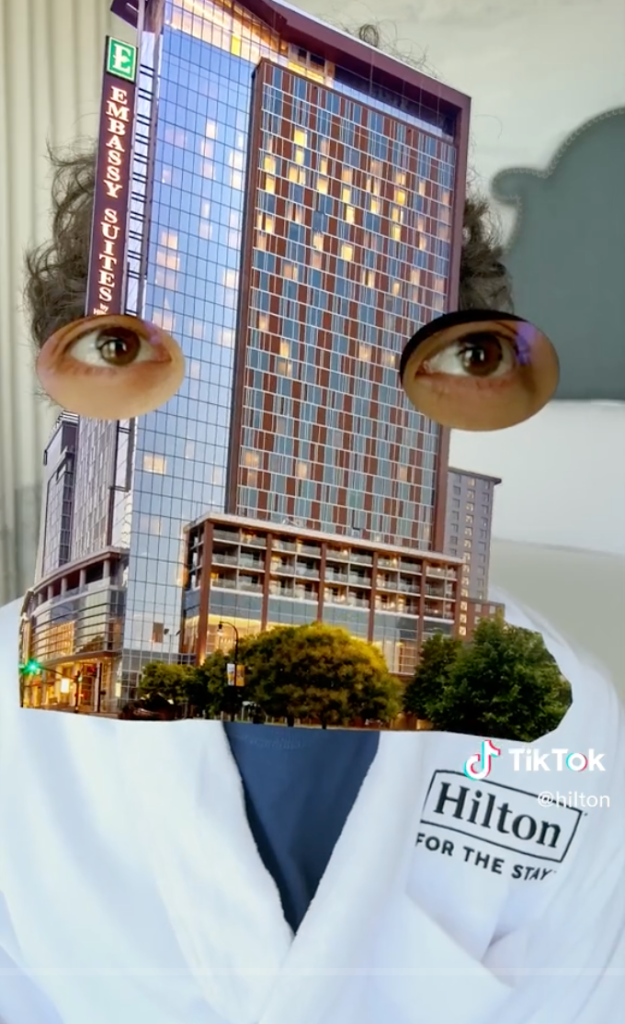 Hilton
🎬 Breaking the Mold and Records: Hilton Hotels' 10-Minute TikTok
Hilton Hotels took a bold step by launching a 10-minute long TikTok video, defying the trend of short, bite-sized content. Here's how they turned it into a success:
They employed various techniques to captivate and entertain viewers throughout the entire 10 minutes.
The video cleverly emulated the browsing experience on TikTok, utilizing different cuts and transitions.
The inclusion of celebrities and content creators added an entertaining and relevant touch.
The video showcased popular content trends like stitching, split-screen video reviews, and comedy sketches.
As a clever tactic to keep viewers engaged, there was a surprising loop at the end, a common trick on TikTok to prolong watch time.
Hilton Hotels defied expectations with their 10-minute TikTok video, utilizing engaging strategies, content trends, and surprises to create an entertaining and memorable experience.