Every week, I bring you a summary of the need-to-know news in the world of digital marketing. No fluff, just the good stuff.
If you find it helpful, be sure to share it with a friend!
Summary
🌍 TikTok introduces "TikTok World Hub" for sharing marketing insights and guides
👋 LinkedIn's App Leaves China for Good
👩‍💼 Twitter Gets a New CEO and Elon stays as CTO
🤩 Smart campaigns by Oatly and IKEA to watch out for
---
Updates
TikTok
TikTok introduces "TikTok World Hub" for sharing marketing insights and guides
TikTok unveils latest product updates and insights for marketers at TikTok World 2023 event. New 'TikTok World Hub' mini-site launched to centralize all featured elements including video presentations and guides to improve your TikTok marketing approach. Check it out here
---
The main insight?
Focus on good creative that is TikTok-first.
They shared a number of cool resources at the event to help brands develop better creative for the platform. Here are some of them:
They shared a number of resources and case studies to back this up. Check the Creative Codes PDF here and the Creative is Easy guide here. Both have a alot of great tips and frameworks to uplifting your creative game on the platform.
What Does TikTok First Mean?
Go lo-fi (avoid glossiness)
Go 9:6
Shoot hi-res
Feature people (creators, employees, customers)
Adopt category/vertical norms
---
LinkedIn
LinkedIn's App Leaves China for Good
LinkedIn finally bid China farewell, closing its app as it laid off its remaining sales and product teams in the country. The Microsoft-owned platform cited "fierce competition" from local alternatives as the main reason for its departure. LinkedIn was the last major US social network to exit China, as Twitter, Facebook, Instagram, and WhatsApp were all previously blocked.
So What:
Marketing to the Chinese market on social media is still possible in the absence of American social media channels in China. Brands can leverage popular Chinese social media platforms such as:
WeChat
Weibo
Douyin (or TikTok as we know it outside China)
If you really want to succeed in the Chinese market, what you really need is an agency in Chinas as you will need to understand local cultural nuances and preferences, develop a localized content strategy, and use influencers and KOLs (Key Opinion Leaders) to promote your products or services. Read more here
Instragram Stories Fast Forward Button
Instagram is testing a new feature on Stories that would allow users to fast forward through content. The new "Fast Forward" button would help users skip through stories they are not interested in. This new feature is still in the testing phase. See it in action

WhatsApp Channels Coming Soon
WhatsApp is reportedly working on a new feature that will introduce channels to the app in a future update. This feature will allow users to follow different topics and get updates from their favorite channels. sneak peak here

Changes to Facebook and Instagram Shops
Facebook and Instagram shops will be limited to those with Checkout enabled in the US. Businesses without a shop won't be able to use Shop features including product tagging. Instagram ads with product tags will still be available. read more

Expect a Drop in your LinkedIn Followers
Expect to see a drop in your follower count on LinkedIn soon. LinkedIn has announced that it will start filtering connection and follower counts by removing restricted and hibernated accounts from the total count.Read more
Thanks Naim Younis for the tip
---
Twitter
Twitter Gets a New CEO and Elon stays as CTO
Linda Yaccarino has been appointed by Elon Musk to oversee Twitter's business operations as he focuses on the technology and design as executive chair and CTO. Yaccarino's main challenge will be to spin her knowledge of social media's weaknesses into an asset and start competing with the traditional media industry.
Who is she and how is this going to affect my marketing?
Linda is coming on board and bringing her expertise in advertising and monetization to the table. We can expect some aggressive moves in this area, including new ad solutions and integration with third parties to optimize ad effectiveness on Twitter.
What's more, Linda's experience as Chair of the Ad Council and her connections with global corporations and the US Government will prove to be valuable assets for Twitter, especially in navigating government regulations and policies. And let's not forget her position with The World Economic Forum, which further showcases her strong international connections.
So what does all of this mean for Twitter users? Get ready to see some exciting policy changes and fresh advertising solutions that will help elevate your experience on the platform.
---
Resources
---
Brand Watch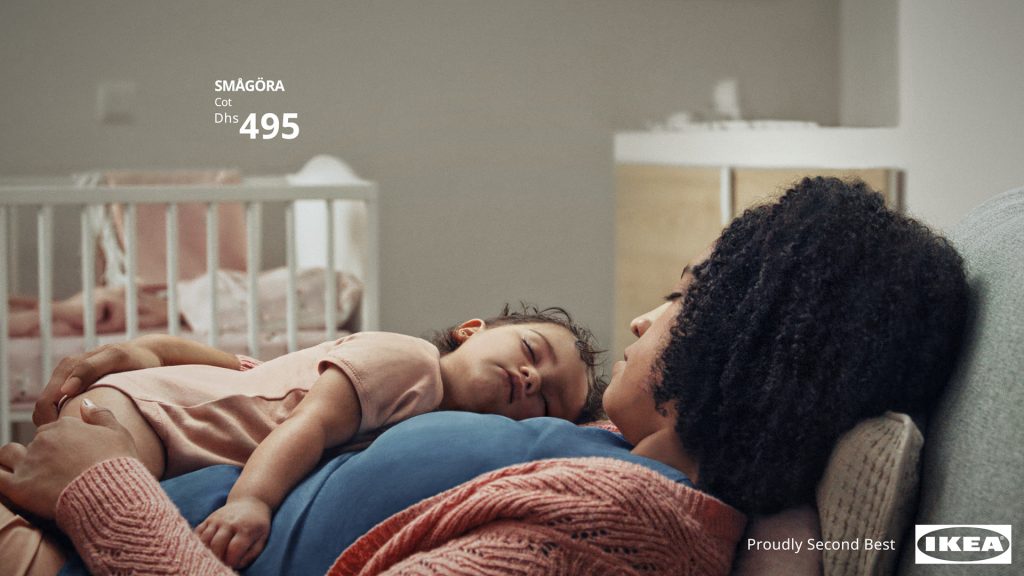 IKEA's Proudly Second Best
IKEA's recent campaign, 'Proudly the Second Best,' is a powerful example of humility in advertising. Rather than boasting about their own strengths, they built an entire campaign around the special bond between parents and their children.
By showcasing the importance of family time and emphasizing the significance of creating comfortable and functional living spaces that promote children's development and creativity, IKEA's campaign resonates deeply with customers.
As marketers, we can draw inspiration from this approach to branding by emphasizing the human aspect of our product and how it positively contributes to the lives of our customers. IKEA's 'Proudly the Second Best' campaign reminds us that humility can be a powerful tool in creating meaningful connections with our target audience.
---
Oatly Takes on Big Dairy with Bold Climate Challenge and Free Ad Offer
Oatly challenges 'Big Dairy' to disclose their climate footprint and offers free advertising in return. The ad campaign promotes Oatly's own carbon footprint and its push for transparency. The ads ran in major newspapers and billboards in Times Square.
Oatly's promotion of sustainability while challenging their competitors is both inspiring and a bold move. They are taking a direct approach by promoting their core proposition and even paying for their competition's ad space as part of their campaign. It's a great example of how companies can take a strong stance on important issues and stand out in their industry.